Archive for Shameless Click Bait
But please don't touch it in public.
Get there early. The car park gets very busy after dark.
Many thanks to James K. of Praguebeats for the photo!
Worried that your life as a Prague expat is becoming a little too relaxed? PraguePig.com is here to help.
This simple but highly scientific test quickly lets you know whether it's time for a lifestyle change.
PraguePig.com was in Klatovy (Plzen Region) for the annual fair at the weekend when he came across this unusually named ride.
Don't blame me if it makes you feel sick.
PraguePig.com spotted this eye-catching sign outside the U Zvonecku pub in Prague 8-Kobylisy: "Event in Bar – 27.2 Erotic Quiz – Fun, Gifts, Surprise"
Since 2002's floods, Prague has tested its emergency sirens at noon on the first Wednesday of every month, routinely frightening tourists and newcomers to the city.
But what if that's not enough?
What if you want to hear the emergency siren on demand, 24 hours a day, seven days a week?
PraguePig.com is here to help:
The audio track on this video was taken from the official Prague website, where, rather bizarrely, the city makes MP3s of its various test sirens available to play and download.
So now it can be siren day, every day.
Enjoy responsibly.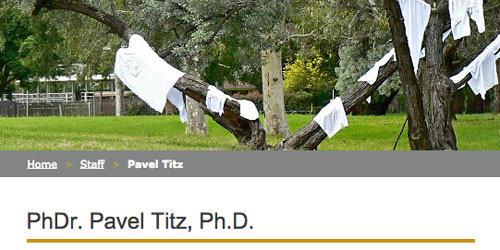 Because it had to be done, here's PraguePig.com's 10 favourite Czech family names that look or sound a bit rude in English.
Please mail my Pulitzer to the usual address.