Prague's most expensive beer: 190 crowns for 0.33-litre bottle of Pilsner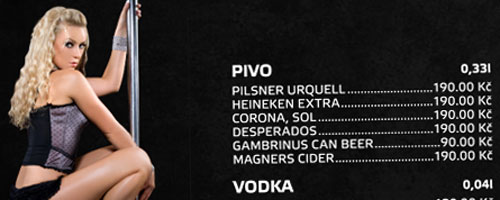 Congratulations to GoldFingers, the new holder of PraguePig.com's "most expensive beer in Prague" title!
The Wenceslas Square strip club charges an eye-watering 190 crowns for a 0.33-litre bottle of Pilsner Urquell, Heineken Extra, Corona, Sol, or Desperados.
That works out at 288 crowns (around 10.44 euros, 14.44 US dollars or 8.58 British pounds) for a half-litre, easily beating our previous holder, Prague airport, which charges a mere 145 crowns for the same amount.
Moving into second place in PraguePig.com's rankings, the InterContinental Prague's Zlatá Praha restaurant charges 190 crowns for a half-litre of 12-degree Staropramen.
Know a place in Prague that charges an even more outrageous price for pivo?
Leave a comment or email praguepig@gmail.com.
• Thanks to Steve and Charlie for the tips!