10 Czech surnames that sound a bit rude in English
Because it had to be done, here's PraguePig.com's 10 favourite Czech family names that look or sound a bit rude in English.
Please mail my Pulitzer to the usual address.
Bendová
How it's pronounced: BEND-ov-ah
Example: The female version of Benda has been a Western comedy staple for years. Perhaps the most famous Czech Bendová is actress Alice Bendová.
Bigas
How it's pronounced: BIG-ass
Example: Young journalist Jiří Bigas is currently on the staff at the freepaper Metro, where he works on the website.
Bonk
How it's pronounced: as written
Example: Following a successful career, including 13 seasons in the NHL, ice hockey player Radek Bonk announced his retirement in May of this year (2014).
Dyk
How it's pronounced: as written
Example: The Czech Republic's most popular Dyk is undoubtedly singer/actor/heartthrob Vojtěch "Vojta" Dyk, former frontman of Nightwork.
Fukal
How it's pronounced: FUK-al
Example: I hate to disappoint British football fans of a certain age but former Czech international Milan Fukal's surname isn't really pronounced "fuck all".
Křap
How's it's pronounced: KRZHAP
Example: Patrik Křap, another footballer with an unfortunate-looking name, began his career in Brno and was last seeing playing in the lower leagues of Austria.
Kunc
How it's pronounced: KUNTS
Example: Looking for a GP in Plzeň? MUDr. Tomáš Kunc will see you now.
Pissinger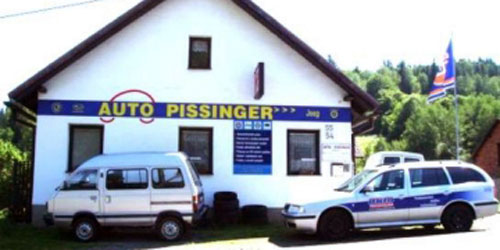 How it's pronounced: PISS-in-ger
Example: Jan Pissinger runs Auto Pissinger, a garage in Dlouhá Ves, not far from the Šumava national park.
Titz
How it's pronounced: TITS
Example: PhDr. Pavel Titz studies Archeology and Ancient Religions at the Univerzita Pardubice's (University of Pardubice's) Arts and Philosophy faculty.
Wanke
How it's pronounced: VANK-e
Example: MUDr. Evald Wanke has a dental practice in Čelákovice, a Central Bohemian town around 25 kilometres north-east of Prague.
PS – Anyone who points out that some of these names are originally German will be banned from the site.