PraguePig.com's five favourite campaign ads from the 2014 Czech elections
As the dust settles on the Czech Republic's 2014 Senate and local council elections, PraguePig.com looks back at some of the campaign's strangest ads.
Jiří Surůvka (Jsme Ostrava – Koalice Strany zelených a Pirátů)
Artist Jiří Surůvka's bid to win election to Ostrava council as part of a Green/Pirate coalition spawned probably the funniest political ad PraguePig.com has ever seen. Sadly, the Ostrava electorate wasn't ready for a crime-fighting councillor.
Oldřích Lomecký (TOP 09)
The local leader of the centre-right TOP 09 party scooped up the Unintentional Irony award for blocking the pavements of Prague 1 with this "Pavements Belong to Pedestrians" ad. Despite this, Lomecký successfully won re-election to the downtown district's local council.
Roman Kříž (Strana svobodných občanů)
Lawyer Roman Kříž, a candidate for the libertarian Svobodní party, took his unsuccessful Prague 5 Senate campaign a little too literally. According to the blurb, Kříž is a MENSA member, which reminded PraguePig.com of the Woody Allen line about being absolutely brilliant and having no idea what's going on.
—
Sex and politics involve people wearing their smartest clothes and making compromises but there, as far as PraguePig.com can see, the similarities end. The marketing geniuses behind our remaining two ads clearly disagree, however:
ČSSD Zlín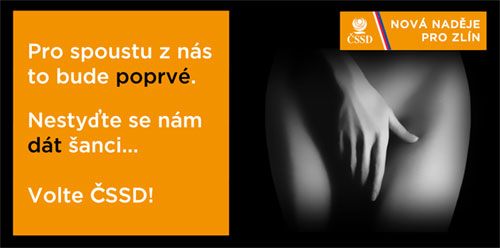 Winning no prizes for subtlety, the Zlín branch of the centre-left Social Democrats (ČSSD) targetted young voters with this super-icky social media campaign. The slogan: "For many of us it will be the first time. Don't be shy about giving us a chance… Vote ČSSD!"
Laura Janáčková (ANO)
48-year-old sexologist Laura Janáčková livened up the Prague 1 Senate race with this Sex and the City-inspired "Love, sex and politics" billboard but failed to qualify for the second round of voting. Nobody likes a show-off, Laura.
Isn't democracy wonderful?
• For much more of this sort of thing, see the wonderful Český politický bizár Facebook page